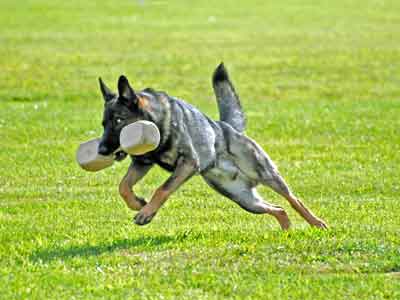 Schutzhund Village is our beautiful training facility in Palmyra, Virginia. It is a place where we strive to become trainers who deserve our dogs. Our training and tracking fields are nestled in the park-like setting of Newstead Farm, bordered by the Rivanna River and within sight of the Blue Ridge Mountains. Contact for information about our training weekends.
For information about Schutzhund Village, Newstead Farm, or this website, contact .
Schutzhund Village is also the home of Rivanna Schutzhund and Police Club.
News and Schedule Page...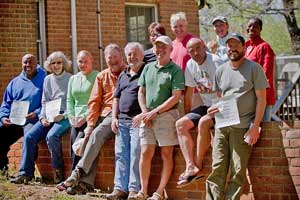 Rivanna Schutzhund & Police Club held our 2014 Winter Trial January 18-19 with SV Judge Ferdinand Diermayr. The weather cooperated, with conditions perfect for the dogs, and the (bundled up) spectators.
Eleven teams started, and all deserve praise for their hard work and sportsmanship. We finished with three new IPO titles, a new FH 1, and four BHs. Our visiting team from Tidewater brought with them a large contingent who considerably added to the gemütlichkeit with their enthusiastic support for all the dogs and handlers.
And, as always, thanks to everyone who helped out: Helper, tracklayer, & major organizer Armin, tracklayer Max, Secretary Anita, the obedience group, and of course, everyone who contributed food for our once again memorable lunches and judges dinner.
Trial Results... Trial Pictures...
If all you photographers will send me a selection of your favorites, I promise to post them quickly. Please crop them and size them for the web. Preferably no more than 400-600 pixels on the larger dimension, and no more than 40-50K bytes. Color and contrast corrected would be nice, too.
March 16-17, 2013 Schutzhund Village hosted a trial for the Royal City Schutzhund & Dogsporting Association with DVG judge Dunja Schmid. An impressive total of 22 dogs started, with an even more impressive total of 20 passing, most earning new titles.
Trial Page... Trial Results...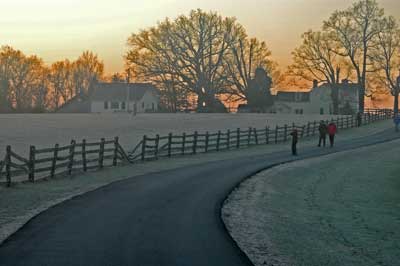 Rivanna Schutzhund & Police Club held our 2012 Fall Trial October 26-28 with SV Judge Rudolf Gimpel.
Trial Results...
Rivanna Schutzhund & Police Club held our 2012 Spring Trial April 6-8 with SV Judge Ferdinand Diermayr. We finished with 4 new BHs, 3 new IPO 1s, 2 new IPO 3s, a new FH 1, and a new FH2. Congradulations to all the handlers for their hard work and good sportsmanship.
The weather was perfect for dogs and handlers, tracking conditions were excellent, and, as usual, the food was great. Thanks to our judge, Herr Diermayr all the way from Bavaria; Max and Chris for laying the FH and IPO 3 tracks; Fiona, our trial secretary; and, of course, Armin and Max for their helper work.
This was our 17th trial since our first in 2003 and continued our tradition of Handler Owner Trained dogs and hospitality to guests and non-traditional breeds. From our club we had 2 dobes, 1 Riesenschnauser, 2 Presa Canarios, 1 mix, and 4 German shepherds. And, all the way from Baltimore, our guest earned a new IPO 3 with a Cane Corso.
Trial Results... Trial Pictures...
Karo Earns ZTP in North Carolina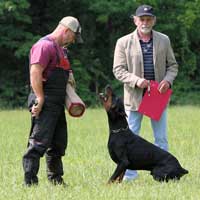 Chris and Karo went to North Carolina for the Doberman Verein ZTP (Zuchttauglichkeitsprüfung). Their hard work paid off and Karo is now officially "Ascomannis Karo SchH III ZTP SG 1B." Congratulations to Chris and Karo for a significant list of accomplishments.
Pictures...
DVG Bundesiegerprüfung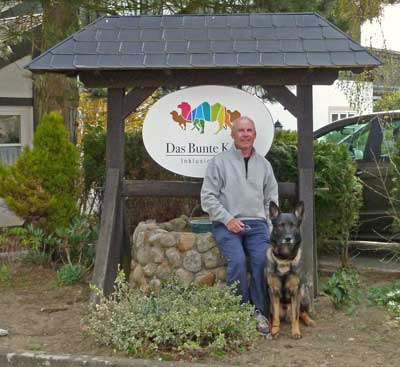 Guyot's performance at the LV/DVG America Championship last October earned him a place at the 2011 DVG BSP in Lütjenburg, Germany where he scored 271 SG.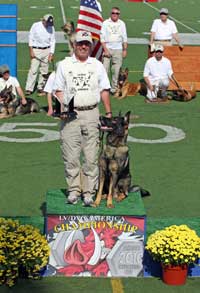 DVG Nationals!
Ron and Guyot went to North Little Rock, Arkansas, for the 2010 DVG National Championship, placing 4th with a score of 96 93 90 279 SG. They also won the trophy for high Southeast KG competitor. Arkansas Schutzhund Club did a fine job of hosting, with a river boat cruise, unlimited hospitality for practice at their beautiful club field, a great venue 2 blocks walk from the host hotel, and an all-around well organized trial. Oh, and somehow they managed to arrange perfect weather. Thanks to all who organized, judged, laid tracks, did the unglamorous grunt work, and, of course, the helpers for a great event.
Trial Results... Trial Pictures...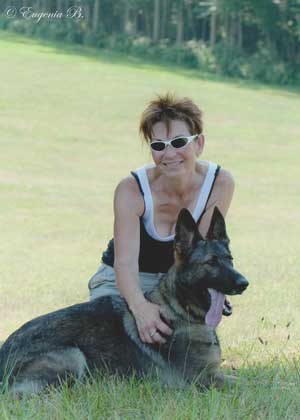 June 12-13, 2010 Schutzhund Village hosted a trial for the Royal City Schutzhund & Dogsporting Association with DVG judge Fred Marashi. Hot weather, a brief thunderstorm, and a power failure made for a challenging weekend. As usual, there were successes and disappointments, but good sportsmanship prevailed. With a little improvisation we overcame the power failure and were able to cook and enjoy the judges dinner. Congratulations on their new titles to Joanne & Ena SchH I, Warren & Atos SchH II, Keith & Eli StP II and thanks to our judge, Fred Marashi, our helpers, Armin & Warren, trial secretary Fiona, Armin who laid great SchH II & III tracks, and everyone who trialed and helped out.
Trial Page... Trial Results...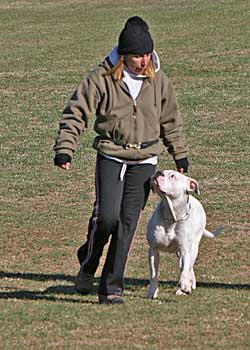 2009 Fall Trial!
Rivanna Schutzhund and Police Club held our 2009 Fall Trial December 11-13 with SV judge Ferdinand Diermayr. Teams earned 2 new SchH 1 titles, 1 new SchH 2, 1 new SchH 3, 1 new FH 1, and 9 BHs. In addition, we had 2 repeat SchH 3s, 1 TR 1, and 1 TR 2. All but two of the twenty two dogs entered are Handler Owner Trained. Handlers came from 5 states, the District of Columbia, Quebec, and Denmark.
We are grateful for everyone who helped organize the trial and feed handlers, spectators, and guests. We are especially grateful to Armin & Dave for their helper work, particularly in the deluge and standing water on Sunday. Thanks also to Armin, Charles, and Michelle for laying very fine tracks for the 2s, 3s, and FHs.
This was our 14th trial since we started in 2003 and the first in which we were forced to trial on a day with really bad weather. Handlers and spectators are unlikely to forget the heavy, cold rain we had on Sunday. Friday and Saturday were beautiful, but no one's luck lasts forever!!
Trial Page... Trial Results...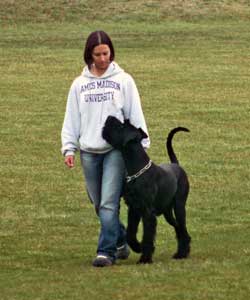 The 2009 Rivanna Schutzhund and Police Club Spring trial with FCI Judge Ralf Achilles was held Saturday and Sunday, March 28 & 29. Herr Achilles was a strict, fair judge, who gave very detailed critques containing much good advice to our handlers. There were several new titles, a number of nice performances, some disappointments, and overall good sportsmanship. The judge complimented us on the support we gave each other, and the hospitality we extended to visitors and members alike.
Thanks to helpers Armin and Dave, tracklayers Armin, Keith, and Charles, everyone who cooked and brought food, the Group, and all the spectators and friends who provided moral support. And, of course, Ralf, our judge who came all the way from Germany, and our secretary, Joyce.
Trial Results...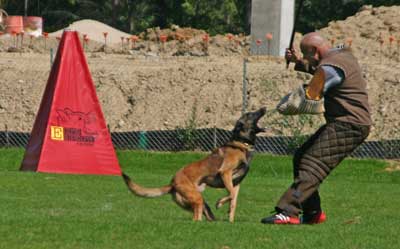 The sport of Schutzhund cannot exist without helpers. They are the dedicated men and sometimes women who show up every club training session and tirelessly work with handlers and dogs to help nurture young prospects into competitive Schutzhund dogs.
At large events trial helpers often get high praise or harsh criticism. But without them there could be no event or trial. And we often forget the training helpers who have helped the dogs get to where they are.
If it were not for helpers at every level our great sport would simply cease to exist.
Here at Schutzhund Village and the Rivanna Schutzhund and Police Club helper training is a long standing tradition.
More...

Schutzhund Village Perpetual Trophy in memory of VA Lars von Wilhendorf SchH III, FH is awarded to the high handler owner trained team at each trial hosted by Schutzhund Village.
Schutzhund Village Training Director's Award in memory of Wasko vom Küchenhorn SchH 3 FH is awarded to each HOT team trained at Schutzhund Village when they earn their first working title.
A team who earns all of their titles together, and have done substantially all of their training in the Schutzhund Village group or its predecessors, become members of our Schutzhund III Club upon earning the SchH III title.