2012 Spring Trial!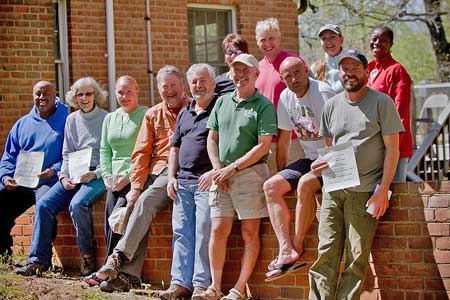 Rivanna Schutzhund & Police Club held our 2012 Spring Trial April 6-8 with SV Judge Ferdinand Diermayr. We finished with 4 new BHs, 3 new IPO 1s, 2 new IPO 3s, a new FH 1, and a new FH2. Congradulations to all the handlers for their hard work and good sportsmanship.
The weather was perfect for dogs and handlers, tracking conditions were excellent, and, as usual, the food was great. Thanks to our judge, Herr Diermayr all the way from Bavaria; Max and Chris for laying the FH and IPO 3 tracks; Fiona, our trial secretary; and, of course, Armin and Max for their helper work.
This was our 17th trial since our first in 2003 and continued our tradition of Handler Owner Trained dogs and hospitality to guests and non-traditional breeds. From our club we had 2 dobes, 1 Riesenschnauser, 2 Presa Canarios, 1 mix, and 4 German shepherds. And, all the way from Baltimore, our guest earned a new IPO 3 with a Cane Corso.

Trial Results...