Helpers — the Driving Force of our Beloved Sport
The sport of Schutzhund cannot exist without helpers. They are the dedicated men and women who show up every club training session and tirelessly work with handlers and dogs to help nurture young prospects into competitive Schutzhund dogs.
At large events trial helpers often get high praise or harsh criticism. But without them there could be no event or trial. And we often forget the training helpers who have helped the dogs get to where they are.
If it were not for helpers at every level our great sport would simply cease to exist.
Here at Schutzhund Village and the Rivanna Schutzhund and Police Club helper training is a long standing tradition. Beginner helpers are taught the basics, advanced helpers get polish and the finer points of training and trial work. Our own teaching helper, Armin Winkler, is one of the more dedicated and intense teachers of the craft in the country.
He enjoys helping beginners as much as top level helpers, giving his time and knowledge to ensure the art of helperwork continues to grow and flourish for the sport.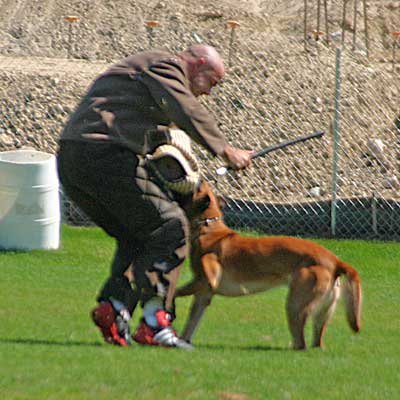 National and world championship event helpers whom he has helped, coached, and/or mentored over the years are:
Doug Wendling
James Laney
Clark Niemitalo
Jim Laubmeier
Johan Krijnen
Chuck Lerner
Matt Akenhead
Besides these notable and well respected gentlemen Armin has helped countless Basic and Club level helpers in clubs across the country and continues to do so.
Schutzhund Village and the Rivanna Schutzhund and Police Club would like to extend an invitation to helpers of all levels to learn and apprentice in our great and successful program under Armin's guidance.
No cost, no catch, all we ask is for dedication to the sport and to the dogs and handlers who participate in it.
Our great country has a shortage of helpers across the land. One single complaint and plight of all clubs is that there are not enough helpers with experience and skill.
We would like to help remedy this by offering training to the talented men and women out there who just need a teacher.
So pay us a visit and get suited up. Schutzhund needs you!